Tags
---
WordPress lover by short, with 10+ years of Web Development, Started working with WP by the release of version 2.8 ( 2009 ) and since then I learned so much from the core itself and challenges I faced with clients to do what they need using WordPress. Also love Laravel framework which I can integrate with WP. Before all of that I was an RIA Developer using Adobe Flash and Flex for 5 years, Old school stuff.
I can help you with:
– customizing themes and plugins
– creating custom plugins and/or integrate with other plugins
– integrate with Laravel 5.x framework
– creating themes and child themes
– optimizing plugins' and themes' security, speed and performance
Codeable Best review award "3rd time" of the week 04-Sep-2016 Wohooo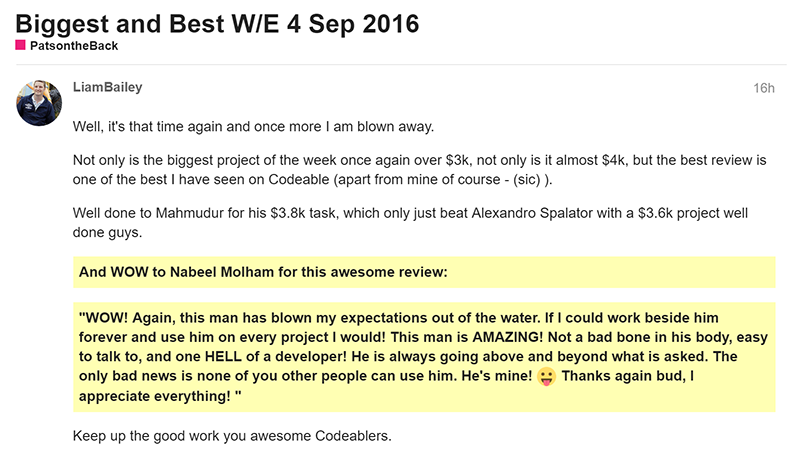 How a US-based consultancy beefed up their client base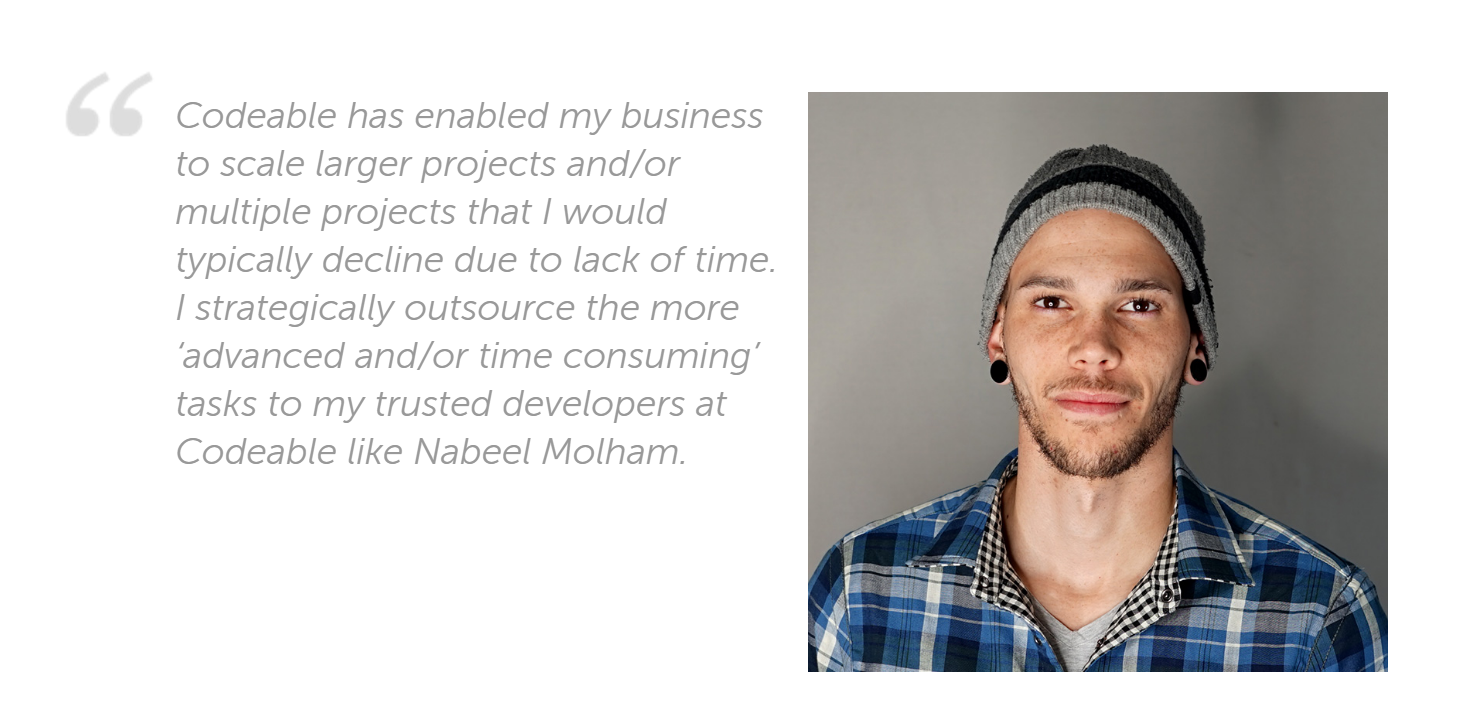 Codeable Best review award "2nd time" of the week 05-Jun-2016 and Week ending 12-Jun-2016

Codeable Best review award of the week 13-Mar-2016 :)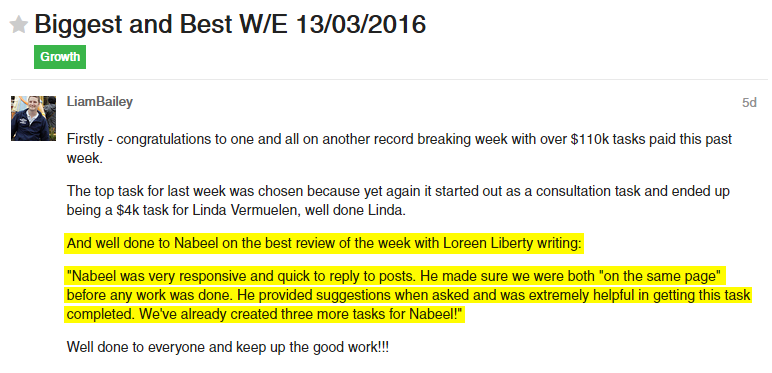 Best review of I had so fare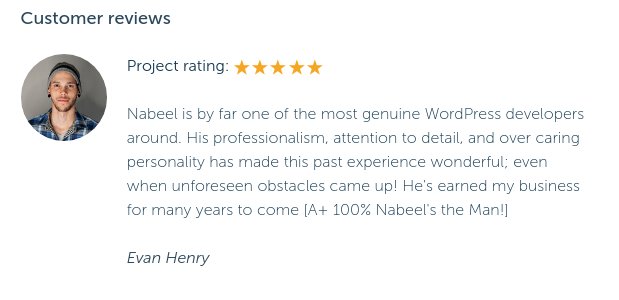 Certified Codeable WordPress Expert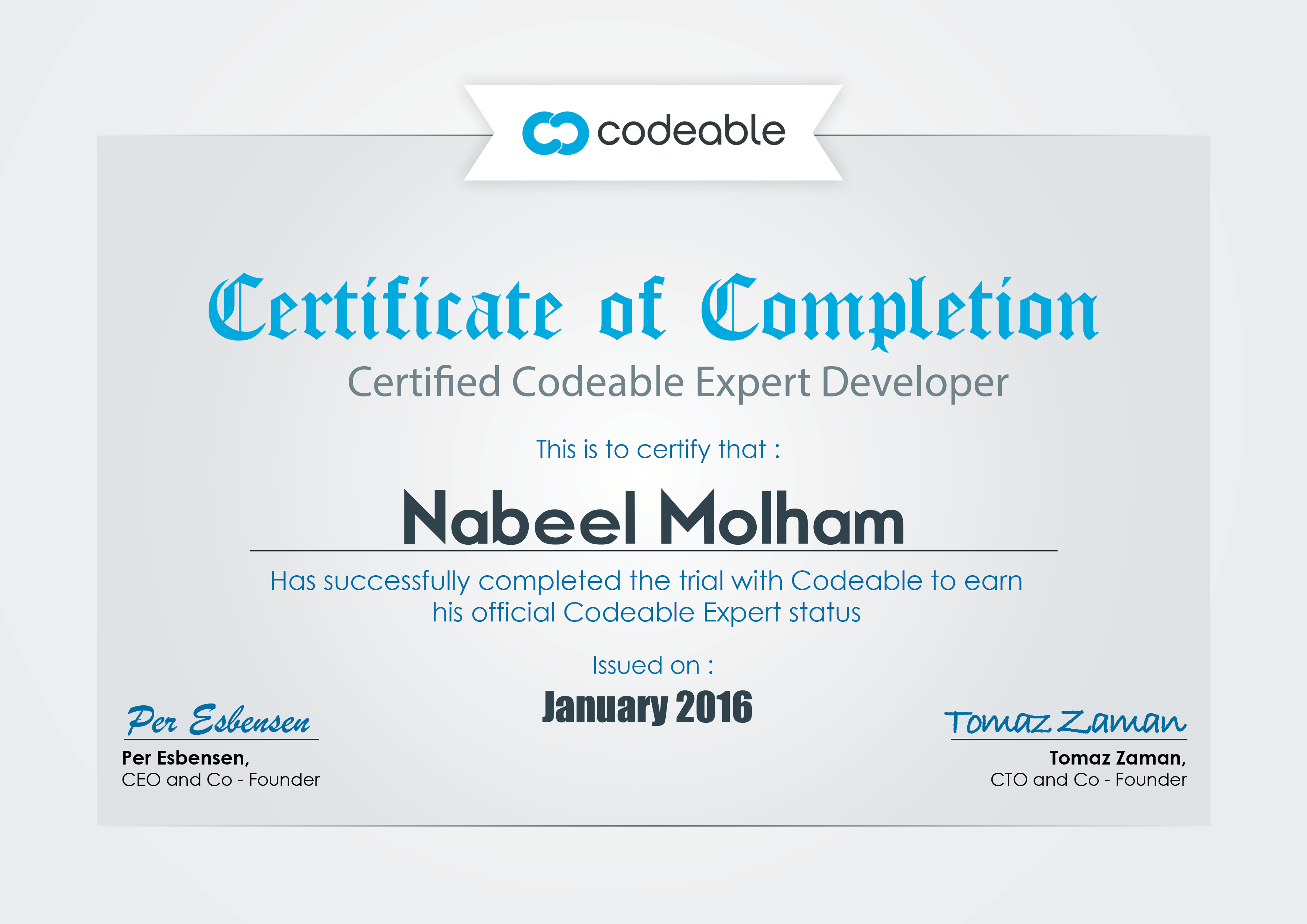 ---
Customer reviews
Nabeel Molham
2017-06-20T18:49:30Z
5
Nabeel is the best; he's understanding, reasonable and very skilled. I hope to use him for many, many more projects in the future!
Nabeel Molham
2017-06-03T17:52:41Z
5
Based on the problem I stated when I requested the consult, Nabeel researched probable solutions and I think one of these will address the problems I'm experiencing on my website. The consulting fee was well worth the investmentI I look forward to working with him in the future.
Nabeel Molham
2017-05-31T13:29:06Z
5
Nabeel Molham
2017-05-30T16:08:11Z
5
Nabeel Molham
2017-05-18T17:01:53Z
5
He was complete, told me exactly what I needed to do, and was honest.
Nabeel Molham
2017-05-17T09:27:45Z
5
Nabeel Molham
2017-05-03T08:33:56Z
5
Excellent and Very Professional Developer! Have been worked several times and will continue working together.
Nabeel Molham
2017-04-28T06:46:24Z
5
Without fail exceptional work! Fast, super responsive, and went above and beyond the scope of the work done to ensure the job was done right. I would highly recommend Nabeel to anyone who doesn't want to waste time and needs to get it right the first time around. Thank you for your hard work!
Nabeel Molham
2017-04-22T10:26:01Z
5
I have lost count on how many times I have approached Nabeel for assistance, and everytime it is 5 stars, and will give him 6 stars if there is such rating. Responsible, reliable, responsive, friendly, patient, great technical knowledge and the list go on. This task has some complexities and require good technical knowledge to minimise conflicts and to work seemlessly with other plugins, and he has completed it to a high standard as usual. Keep up the great work mate!
Nabeel Molham
2017-04-05T17:48:39Z
5
Nabeel Molham
2017-03-27T15:18:44Z
5
Very professional developer, well organized and managed projects well. Several cooperation already and will hire him again. Very recommended!
Nabeel Molham
2017-03-13T13:13:26Z
5
Nabeel Molham
2017-03-05T13:56:15Z
5
well done - quick and Compentent
Nabeel Molham
2017-03-03T15:44:27Z
5
Nabeel was awesome as usual!
Nabeel Molham
2017-02-28T15:51:39Z
5
Nabeel has done it again, and without doubt one of the best and honest WP Developers around. This is the 4th task that we have hired Nabeel for our complex projects, and despite the relative complexity in the current task, he has again deliver 100% as always to our requirements. He is such a rare find, and we will continue to use him for our requirements. Thanks mate!