Tags
---
WordPress lover by short, with 10+ years of Web Development, Started working with WP by the release of version 2.8 ( 2009 ) and since then I learned so much from the core itself and challenges I faced with clients to do what they need using WordPress. Also love Laravel framework which I can integrate with WP. Before all of that I was an RIA Developer using Adobe Flash and Flex for 5 years, Old school stuff.
I can help you with:
– customizing themes and plugins
– creating custom plugins and/or integrate with other plugins
– Integrate with Laravel 5.x framework
– Creating themes and child themes
– Optimizing plugins' and themes' security, speed and performance
Codeable Best review award "3rd time" of the week 04-Sep-2016 Wohooo
How a US-based consultancy beefed up their client base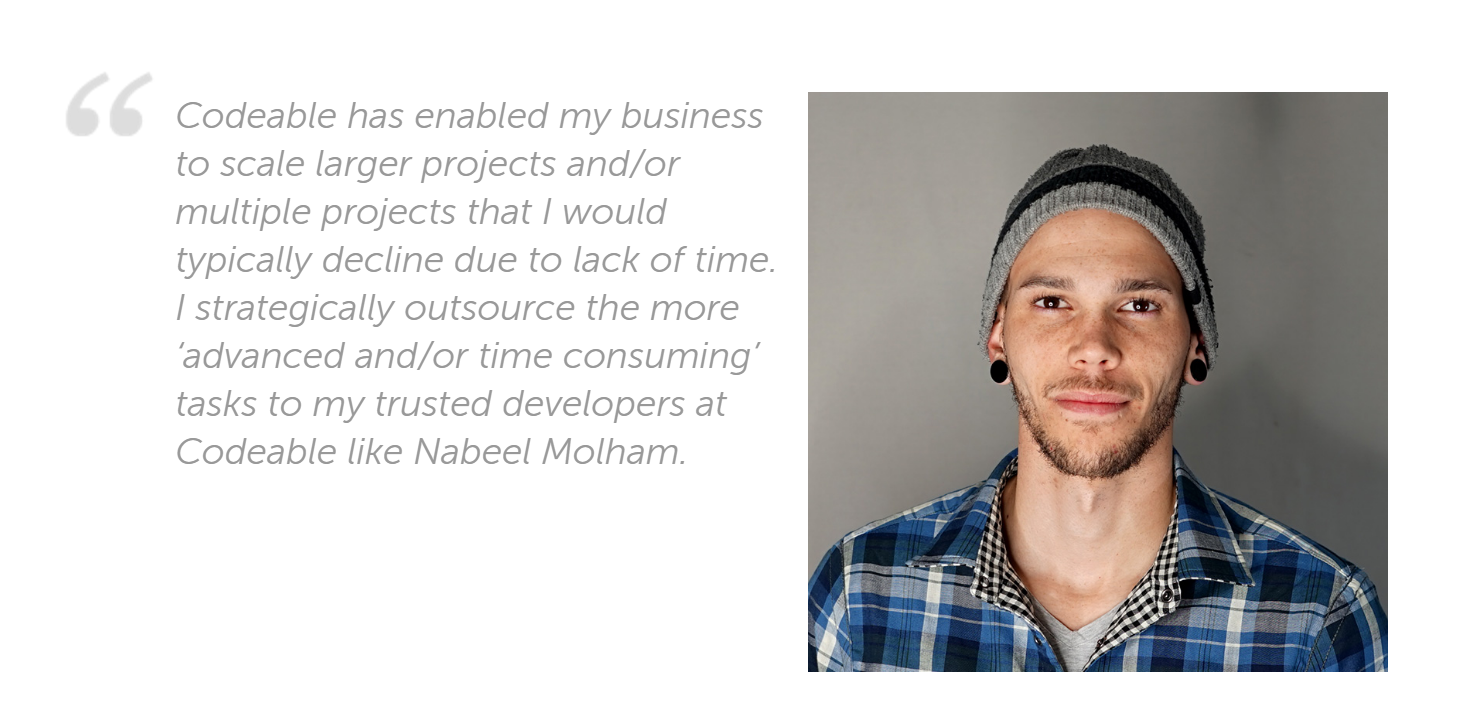 Codeable Best review award "2nd time" of the week 05-Jun-2016 and Week ending 12-Jun-2016

Codeable Best review award of the week 13-Mar-2016 :)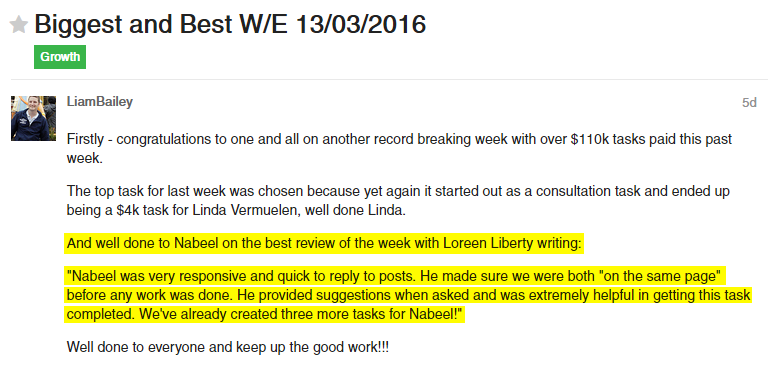 Best review of I had so fare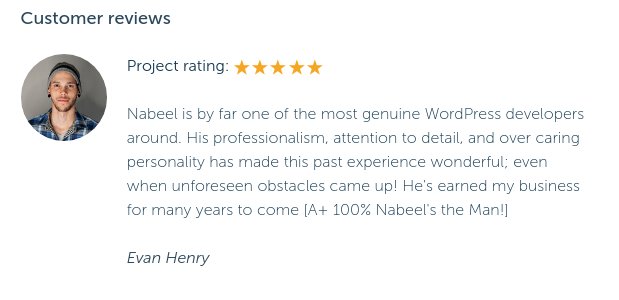 Certified Codeable WordPress Expert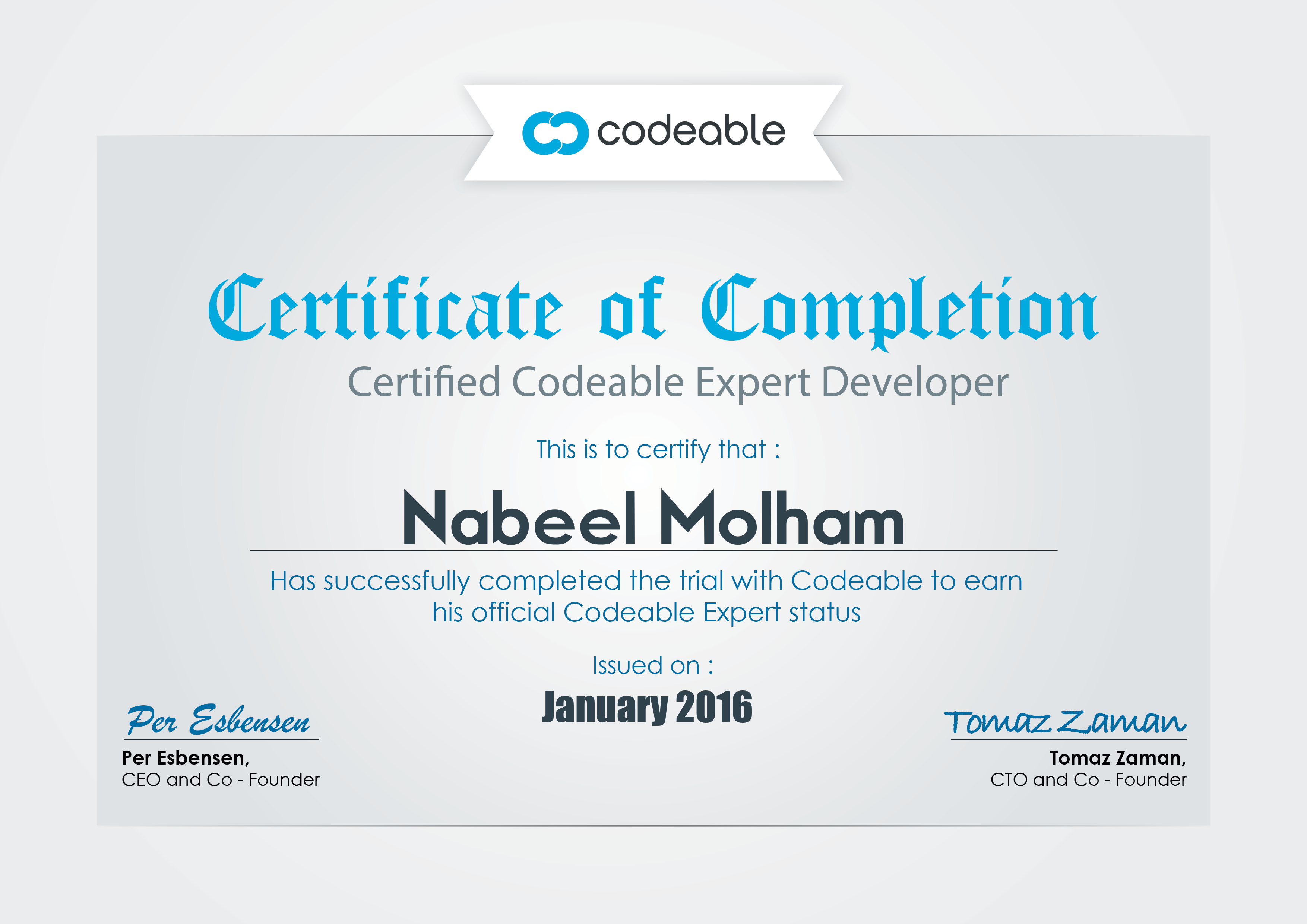 ---
Customer reviews
Nabeel Molham
2018-04-19T16:59:38Z
5
Per usual Nabeel comes in with a super keen eye and brain and helped us get to the bottom of how two heavyweight plugins work (and don't work) together. Highly recommended and we are continuing to request him specifically with our WP dev needs.
Nabeel Molham
2018-03-15T15:00:24Z
5
Nabeel was awesome as usual - hands down best WordPress developer I know and I'll never use anyone EXCEPT for him!
Nabeel Molham
2018-03-14T16:53:57Z
5
Amazing! Nabeel is the best!
Nabeel Molham
2018-03-02T15:21:20Z
5
The consultation with Nabeel was extremely insightful. He was able to help us identifies helpful tools and additional tasks that may be required for the successful delivery of this project.
Nabeel Molham
2018-02-28T14:04:24Z
5
Over the many years I've been working with Nabeel, I can honestly say that he's a true WordPress professional and extremely talented. He's capable of completing any task I give him, regardless of complexity, and with a quick turnaround. Absolutely one of the best developers you can hire. – Robert Cekan from TrueResident
Nabeel Molham
2018-02-27T20:57:43Z
5
Nabeel is awesome - my go too developer for all things advanced PHP/plugin development!
Nabeel Molham
2018-02-20T15:16:09Z
5
It was great talking to Nabeel about the project. He really helped me to find the best solution for the tasks at hand. Highly recommended​!
Nabeel Molham
2018-02-19T18:06:56Z
5
Awesome work. Always provides great feedback and delivers exactly as promised. I would highly recommend hiring Nabeel.
Nabeel Molham
2018-02-13T02:16:57Z
5
Nabeel is awesome! Incredibly good communicator and was able to get me exactly what I needed. Highly recommend!
Nabeel Molham
2018-02-09T12:19:23Z
5
Nabeel Molham
2018-01-22T18:17:34Z
5
Nabeel Molham
2018-01-22T15:02:20Z
5
Nice work! The issue is fixed in time!
Nabeel Molham
2018-01-19T12:26:37Z
5
Nabeel did a great job and is very responsive. We'll definitely work again on a project together.
Nabeel Molham
2017-12-30T18:26:17Z
5
Always a pleasure working with Nabeel. He is quick with his work and always very respectful.
Nabeel Molham
2017-12-27T16:17:04Z
5
Great initial consultation with Nabeel. He took the time to fully understand my objectives and then then drew upon his experience to make recommendations. Best of all, Nabeel asked a lot of good, probing questions which made me aspects of my site I hadn't even considered. Thank you Nabeel!