Tags
---
Certified Codeable Expert Developer since January 2013: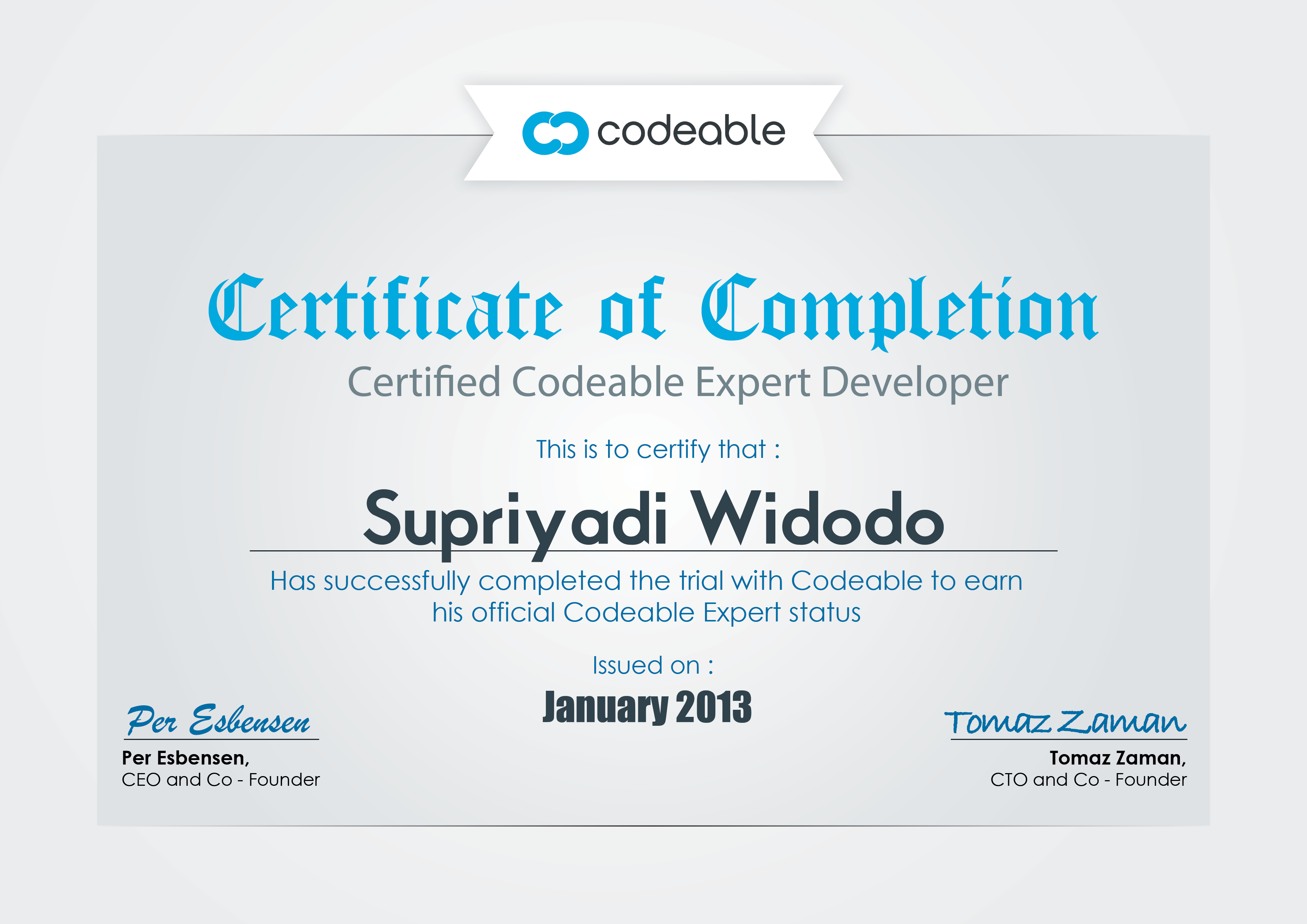 Fast, excellent, and trustworthy!
Write great content, grow your profitable business, delegate the tech work to us. You work hard to keep your business moving forward. I am happy to make sure technology doesn't stand in your way.
As a WordPress Rockstar, I have over 10 years experience with WordPress. I'm committed to provide great quality work for great client like you.
I specialize in development and design of user-friendly custom made WordPress and WooCommerce websites from scratch.
Every client, and every project, is unique. I listen to you, your needs, and create strategic, custom built web solutions, for you and your business.
I always honor deadline and commitment with quality of work. My goal to secure long term and stable relationship with you. Work with me and you will be really satisfied, infact more than satisfied!
If you want to know me more, so don't hesitate to contact me.
Your Success is My Business!
Best regard,
Supriyadi Widodo
---
Customer reviews
Supriyadi Widodo
2019-04-20T17:14:36Z
5
Supriyadi was really really good. He helped me with any question I had and was really efficient and great in communication. The job that he did was really good! I would choose him again for my next job and definitely suggest him to anybody else
Supriyadi Widodo
2019-04-17T21:59:16Z
5
Supriyadi Widodo
2019-03-05T19:34:11Z
5
Supriyadi Widodo
2019-03-03T12:40:59Z
5
I hope we will work with him long term. Thanks Supriyadi!
Supriyadi Widodo
2019-02-12T22:48:58Z
5
Supriyadi fixed an urgent migration issue we had with our main install. He was super quick to respond and had our new site up and running in no time. Really grateful for his help!
Supriyadi Widodo
2019-02-06T23:24:49Z
3
Our production site was degraded for ~6 hours (broken images). Work was completed promptly, but we need to have stability. Our business is to sell "stability" to our customers, so if our own site is unstable, it reflects poorly.
Supriyadi Widodo
2019-02-05T06:33:32Z
5
Supriyadi Widodo
2019-01-01T15:02:39Z
5
Supriyadi went over and above! Great job creating custom coded pages. Very responsive!! Thank you for your help!!
Supriyadi Widodo
2018-12-07T12:14:07Z
5
Fast work and good communication.
Supriyadi Widodo
2018-12-04T16:11:25Z
5
Awesome to work with, made updates fast!
Supriyadi Widodo
2018-12-03T15:51:59Z
5
Did a great job completed work as requested
Supriyadi Widodo
2018-11-29T17:52:21Z
5
Excellent. Exactly what I needed and asked for. Thank you
Supriyadi Widodo
2018-11-28T23:02:53Z
5
Supriyadi was very responsive, from beginning to end. He completed the project quickly, even faster than expected. He answered all my questions, and was gracious and patient when I was confused about the process or provided the wrong info. Very pleased with his work!
Supriyadi Widodo
2018-11-26T05:17:40Z
5
Supriyadi Widodo
2018-11-26T02:37:57Z
5