Tags
---
I've been working with WordPress for over a decade. Through the years, I've been a WordPress theme reviewer, theme contributor, plugin developer and a WordCamp speaker & volunteer.
Outside WordPress, I've worked in all roles in the software development cycle. As a Principal Engineer in MTN, Africa's largest telecom, I led teams designing, building and supporting custom & vendor applications for over 10 million customers. I built the core of the telecom's loyalty platform that grew to support 4 million customers.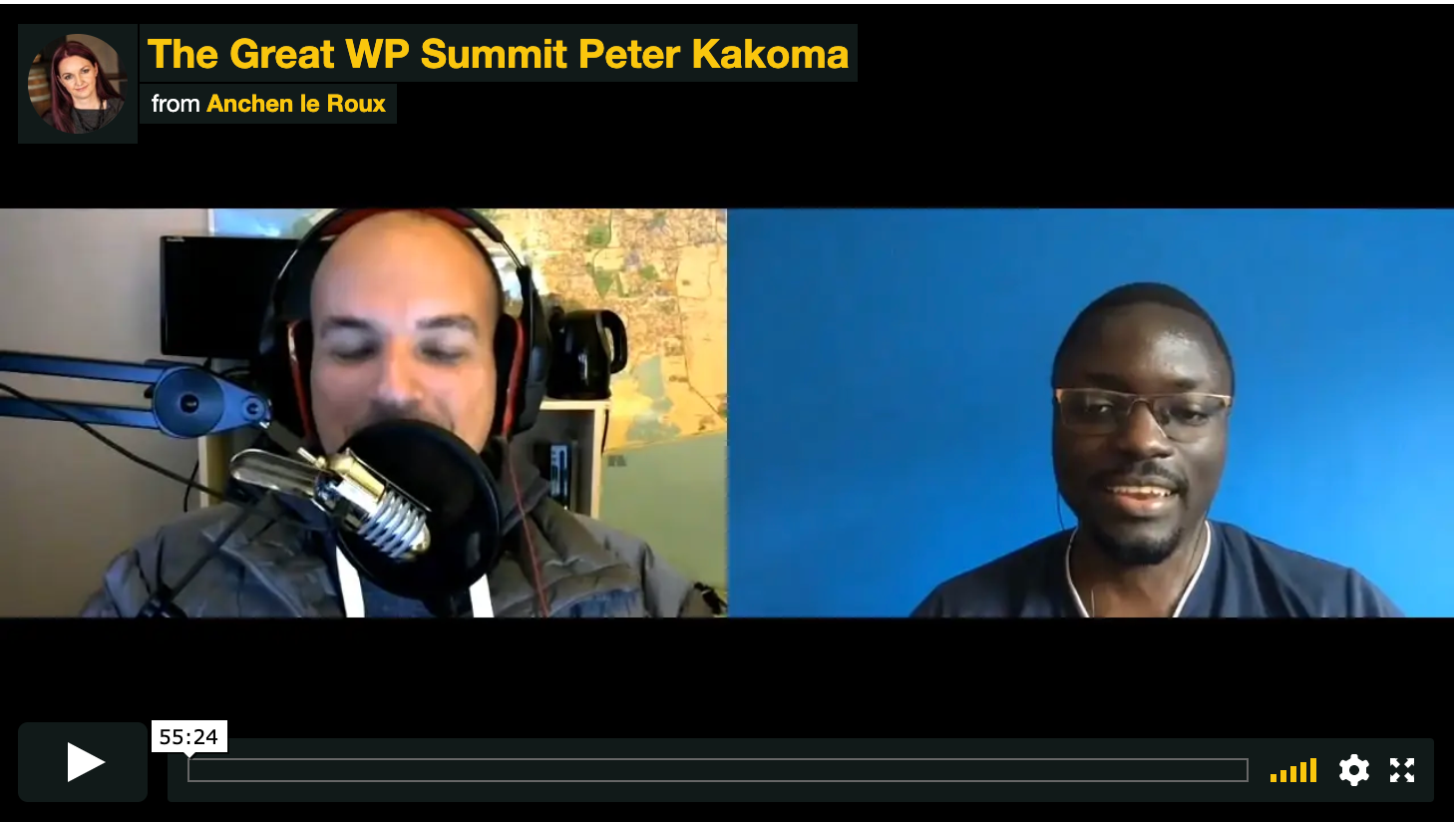 As a senior Engineer at Andela, a company building world-class software for IBM, Microsoft and other US tech companies, I mentored the next generation of global tech leaders and also, designed & built software for the company's off-shore clients.
I'm big on finding an appropriate solution for the need at hand and speaking human – not tech – to ensure we are all on the same page as we work together to bring that solution to life. I'm also quite big on following best engineering practices. Over the years, these practices have proved themselves invaluable to not just making the teams I'm a part of effective but also ensuring that projects have great, lasting impact.
I look forward to working with you to bring your project to life.
---
Customer reviews
Peter Kakoma | Kanzu Code
2017-11-27T06:56:58Z
5
Peter is a good communicator but more importantly has the requisite techinical skills required to complete the task. We are very happy with the outcome of our project.
Peter Kakoma | Kanzu Code
2017-11-20T19:45:56Z
5

Outstanding work. Delivered results, high quality, great thought partnership, great communication.
Peter Kakoma | Kanzu Code
2017-02-06T23:50:52Z
5

I gave Peter a week to finish this task and he did in less than an hour! Simply perfect, could not have been better. Everything is working nice and smooth. I will come back to you when I need support again.
Peter Kakoma | Kanzu Code
2020-07-24T15:38:19Z
5

Altough it took some time we got the expected. I will continue working with this group they are really proffesional
Peter Kakoma | Kanzu Code
2020-07-22T06:40:27Z
5

Prompt, excellent work. Good communications, as usual.
Peter Kakoma | Kanzu Code
2020-07-21T16:49:19Z
5

Peter Kakoma | Kanzu Code
2020-07-15T16:04:21Z
5

From the time I put in the request through to completion, Peter and his team were responsive and provided excellent customer service. What I really needed was some troubleshooting and an expert opinion on whether the Learn Dash plug-in could work properly with the very old WP theme I am running on my website. Even knowing that this would only be an hour or so of fees, and that I wasn't at t his moment requesting any development services, Peter was willing to assist. He brought two other of his team members in to speak with me, and by screen sharing via Goole Hangout, they were able to help me get unstuck with Learn Dash in just an hour. The next step will be to upload the course content. I will do so under a deadline, and will definitely need their help again to get this running properly. I will hire them for additional hours to work out the rest of the bugs. Their expert technical knowledge has given me the confidence to continue with this WP plugin rather than using a different product that would be housed off-line.
Peter Kakoma | Kanzu Code
2020-07-08T05:15:21Z
5

Very helpful. Crystal-clear communications and a logical structured approach. I'm sure I'll be back for more help from Peter and his team in future. Thanks!
Peter Kakoma | Kanzu Code
2020-07-02T17:14:31Z
5

Extremely helpful and knowledgeable. Provided excellent insight into choices we could make for a LearnDash installation and customization.
Peter Kakoma | Kanzu Code
2020-06-25T02:43:41Z
5
Peter was great to deal with. We went on a bit of a tangent at the start of the project, however this was partly due to my brief. Peter was able to get us back on track though and solve the problem we were having very well. Has been a pleasure doing business with him! Thanks Pete.
Peter Kakoma | Kanzu Code
2020-05-18T13:51:50Z
5
We had some issues this time with the time zone differences making it harder to connect. But when we did connect, Peter was great!
Peter Kakoma | Kanzu Code
2020-05-07T15:48:26Z
5
There were a few times when we seemed to talk past each other. It may be my fault, but communication did suffer on occasion. But he didn't seem to get frustrated or try to gloss over it. We eventually got on the same page and moved forward. His patience in those situations is a strength, plus everything else about workin with him was a great experience. Peter's obviously a very knowledgeable and talented developer. He did a great job completing this project and its working great! He even went the extra mile, completing various random minor items that weren't clearly outlined in the original scope. Overall a joy to work with and I highly recommend him to anyone for any project he feels is a good fit for his skillset.
Peter Kakoma | Kanzu Code
2020-05-06T21:30:29Z
5

Peter Kakoma | Kanzu Code
2020-04-24T14:18:31Z
5
Peter Kakoma | Kanzu Code
2020-04-20T15:47:36Z
5

Absolutely blown away, I've never experienced anything this good before.