Tags
---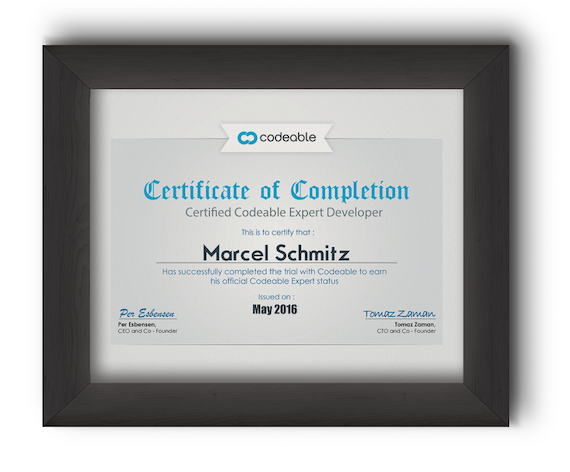 Certified WordPress Expert Developer since May 2016
Introduction
Hi there! My name is Marcel and I've been developing for WordPress for over 10 years now, web development for more than 20 and native mobile development for 5. While currently based in the beautiful city of Porto, Portugal, I've accumulated a large experience in WooCommerce and e-commerce related websites in general, by developing custom plugins, adjusting themes, implementing full end to end online stores and building web-based and native mobile apps. I'm also very familiar with reporting, inventory management, mailing lists, high-performant e-commerce websites, importing and exporting data from and to APIs, and general e-commerce consultancy.
I'm fluent in English, German, Portuguese, and Spanish, I am always available through Skype and have a true commitment to every project I get into.
My goal is to work on solid, well-thought projects, and build long-term relationships. I want my clients to feel supported and confident about their projects and the technology behind it.
Expertise
These are some of the customizations I've made while working with WordPress and WooCommerce:
Building complete e-commerce based on WooCommerce, B2C and B2B;
External APIs integrations;
Custom payment and shipping methods in WooCommerce;
Implementation of membership solutions;
Implementation of cryptocurrencies as payment methods;
Bulk import/export data to/from WordPress and WooCommerce;
WooCommerce Bookings integrations and customizations;
ERP integrations;
All sorts of Gravity Forms and Formidable customizations;
Site optimizations and bug fixes;
Additional information
As far as my work at Codeable is concerned, 80% of my new clients return for additional tasks. All my clients have reviewed me with 5 starts and their testimonials can be read further down this page.
I've been working on different products of my own, some of them sold to bigger companies, such as iThemes and Liquidweb. I also do a lot of consulting work for bigger e-commerce is driven business locally and internationally.
As a hobby, I like to do photography, shoot videos, fly around with my drone and play music (drums, guitar, bass guitar, and keyboards). I'm also involved with the local WordPress community where I gave 4 talks for the last 5 years at WordCamp Porto and helped organized 2018's edition.
Project Portfolio
Web
Here are some examples of projects I've worked for:
https://greatiamwear.com – complete e-commerce solution based on WooCommerce
https://foga.co/ – complete e-commerce solution based on WooCommerce and WooCommerce Subscriptions, with a custom box customizer plugin
https://redmarestudio.net/ – customized WooCommerce product pages and checkout experience
https://crustclub.com – payment gateway integration, club membership and WooCommerce customization
https://marigoldsandonions.com – complete e-commerce solution based on WooCommerce
http://snughughome.com – complete e-commerce solution based on WooCommerce
uTrus – creation of a crypto-payment mehod for WooCommerce
Mobile
Here are some examples of apps that I've built:
Águas de Gaia
iThemes Sales Accelerator
WP Camps
Happy – Health Awareness Prevention
WineSpots
I'm 100% committed to every task I take, here are some of the client's feedback of projects I've worked on.
---
Customer reviews
Marcel Schmitz
2019-10-28T18:32:24Z
5
It was a pleasure working with Marcel who is very knowledgeable on WordPress and was able to deliver a site that the client is very impressed with. Marcel is patient and if he was ever frustrated or upset about anything regarding the project we could never tell. True professional.
Marcel Schmitz
2019-07-31T13:48:55Z
5
From the beginning on, when Marcel helped defining what exactly made the most sense to be done, working with him was absolutely great. He quickly found affordable solutions for all of my WooCommerce issues, responded very timely, and came up with smart ideas while he was implementing that made the result better than expected. I can wholeheartedly recommend him. Thanks, Marcel!
Marcel Schmitz
2019-06-19T12:54:22Z
5
Marcel was extremely professional and knowledgeable. HIs communication around scoping of tasks and attention to detail was fantastic and as a UX designer I am pretty picky. Highly recommended. I would work with him again in a heartbeat
Marcel Schmitz
2020-01-24T15:38:35Z
5
Marcel is a top notch professional in all ways.
Marcel Schmitz
2020-01-10T22:10:10Z
5
Marcel Schmitz
2020-01-09T12:36:25Z
5
Marcel Schmitz
2020-01-07T19:23:07Z
5
Marcel Schmitz
2020-01-03T12:57:45Z
5
Marcel completed this project with a very good communication. Thank you very much.
Marcel Schmitz
2019-12-20T14:28:56Z
5
Marcel Schmitz
2019-12-13T08:53:44Z
5
Tricky little project took several iterations to iron out the intricate details before being delivered beautifully.
Marcel Schmitz
2019-12-12T12:26:29Z
5
Marcel Schmitz
2019-11-25T21:11:10Z
5
Marcel Schmitz
2019-11-19T19:02:28Z
5
Marcel is professional and responsive. We will use again.
Marcel Schmitz
2019-11-14T22:54:37Z
5
Marcel Schmitz
2019-11-13T18:09:02Z
4
Unfortunately the project was not completed. Marcel was professional and responsive during the project.