Tags
---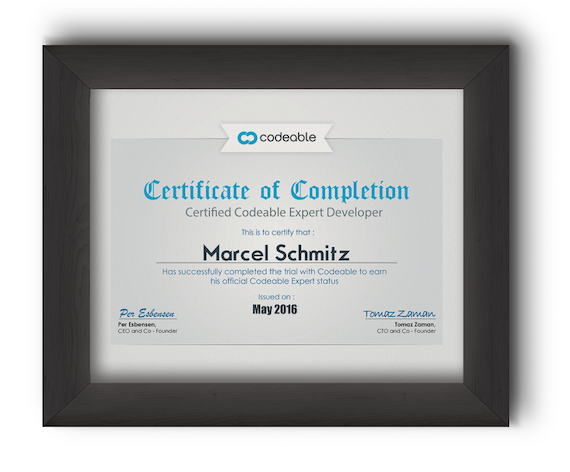 Certified WordPress Expert Developer since May 2015
Introduction
Hi there! My name is Marcel and I've been developing for WordPress for over 10 years now, web development for more than 20 and native mobile development for 5. While currently based in the beautiful city of Porto, Portugal, I've accumulated a large experience in WooCommerce and e-commerce related websites in general, by developing custom plugins, adjusting themes, implementing full end to end online stores and building web-based and native mobile apps. I'm also very familiar with reporting, inventory management, mailing lists, high-performant e-commerce websites, importing and exporting data from and to APIs, and general e-commerce consultancy.
I'm fluent in English, German, Portuguese, and Spanish, I am always available through Skype and have a true commitment to every project I get into.
My goal is to work on solid, well-thought projects, and build long-term relationships. I want my clients to feel supported and confident about their projects and the technology behind it.
Expertise
These are some of the customizations I've made while working with WordPress and WooCommerce:
All sorts of Gravity Forms and Formidable customizations;
Custom payment and shipping methods in WooCommerce;
Implementation of membership solutions;
External APIs integrations;
Implementation of cryptocurrencies as payment methods;
Bulk import/export data to/from WordPress and WooCommerce
WooCommerce Bookings integrations and customizations
ERP integrations
Site optimizations and bug fixes
Additional information
As far as my work at Codeable is concerned, 80% of my new clients return for additional tasks. All my clients have reviewed me with 5 starts and their testimonials can be read further down this page.
I've been working on different products of my own, some of them sold to bigger companies, such as iThemes and Liquidweb. I also do a lot of consulting work for bigger e-commerce is driven business locally and internationally.
As a hobby, I like to do photography, shoot videos, fly around with my drone and play music (drums, guitar, bass guitar, and keyboards). I'm also involved with the local WordPress community where I gave 4 talks for the last 5 years at WordCamp Porto and helped organized 2018's edition.
Project Portfolio
Web
Here are some examples of projects I've worked for:
https://greatiamwear.com – complete e-commerce solution based on WooCommerce
https://crustclub.com – payment gateway integration, club membership and WooCommerce customization
https://marigoldsandonions.com – complete e-commerce solution based on WooCommerce
http://snughughome.com – complete e-commerce solution based on WooCommerce
http://agroaguiar.pt – custom seller's backoffice dashboard solution
uTrus – creation of a crypto-payment mehod for WooCommerce
Mobile
Here are some examples of apps that I've built:
Águas de Gaia
iThemes Sales Accelerator
WP Camps
Happy – Health Awareness Prevention
WineSpots
I'm 100% committed to every task I take, here are some of the client's feedback of projects I've worked on.
---
Customer reviews
Marcel Schmitz
2018-12-22T17:20:01Z
5
Marcel,Marcel worked diligently to solve a problem that he encountered that he did not expect. He was good-natured and polite throughout.I would hire Marcel again.Cheers,Mark
Marcel Schmitz
2017-02-21T05:51:07Z
5
Invent a 6 star rating for this guy! :)
Marcel Schmitz
2016-11-07T19:22:30Z
5
Marcel is extremely easy to work with and so responsive. When problems arose he was attentive and saw it through to the end. I would love to work with Marcel in the future :)
Marcel Schmitz
2019-04-17T12:35:53Z
4
Marcel was able to do what no one else could. Delivery was beyond the 5 days estimated but the code worked as intended.
Marcel Schmitz
2019-04-15T08:08:34Z
5
Marcel Schmitz
2019-04-12T17:40:51Z
5
He was professional and knows what he's doing. I enjoyed the call and look forward to working with him
Marcel Schmitz
2019-04-11T15:25:42Z
5
Marcel Schmitz
2019-04-11T15:12:15Z
5
Marcel very helpful and patient in sorting out our issues Recommendable!
Marcel Schmitz
2019-04-10T18:08:23Z
5
Marcel Schmitz
2019-04-05T14:31:06Z
5
Marcel Schmitz
2019-04-04T20:44:55Z
5
Excellent service and quick turnaround.
Marcel Schmitz
2019-04-04T11:57:06Z
5
Excellent wordpress expert, thank you Marcel.
Marcel Schmitz
2019-04-02T20:07:07Z
5
Marcel completed a project other developers have found challenging. His communication is 10/10, fast, responsive and patient most of all, answering all the questions I posed in a very organised manner, point by point. I rated this above all and of course, he is a professional at what he does. You get what you pay for, in this case, quality work. Will be working with Marcel again.
Marcel Schmitz
2019-04-02T14:40:22Z
5
Marcel was very communicative and when he didn't quite understand what I was looking for, he made sure to ask pertinent questions until he understood completely. Very satisfied.
Marcel Schmitz
2019-03-28T20:33:50Z
5