Tags
---
Why am I the right developer for you? 👍
I am a Full-Stack developer, and administrator. What does full-stack mean…? Well I can not only develop and build out the front end design and styling of your website, but I can also custom code every aspect of the back end as well. Whether it is your site's themes, plugins or custom server bash scripts, I can help you with every aspect of your website.
Beyond that, once your site is launched. Whether you need it maintained or optimized for speed, I am the expert you need. I can also build out, spin-up, and fully maintain custom servers for you as standalone dedicated boxes, or as a cloud-based VPS. My intimate understand of all aspects of the website server stack as well as the sites running on them, allows me to provide custom solutions and integrations that are just not possible with wordpress plugins alone. If you are looking for someone that can tackle your project from all angles, from beginning to end, I am your expert.
Finally, I pride myself on providing clear communication, and detailed explanations on all tasks that I participate in. Whether you are a first timer, or a veteran codeable client, I want your experience here to be the best you have ever had. If you hire me you can count on complete explanations and consistent follow-up, on all of your questions and comments.
---
⭐️ Click here to hire me as your preferred expert ⭐️
---
💼 Skills
• Expert in PHP, XML, HTML, CSS & JavaScript Frameworks
• Expert in all things Wordpress
Custom Gutenberg block development
Custom Wordpress plugin development
Custom Wordpress theme development
• Expert in the administration and management of Linux based web servers.
• Expert in the Linux Command Line, Git Version control, and WP-cli
• Expert in MySQL database design and database driven web application development.
Below are some more details and examples of my skillsets.
---
Here are some sites that I have recently developed
---
---
---
---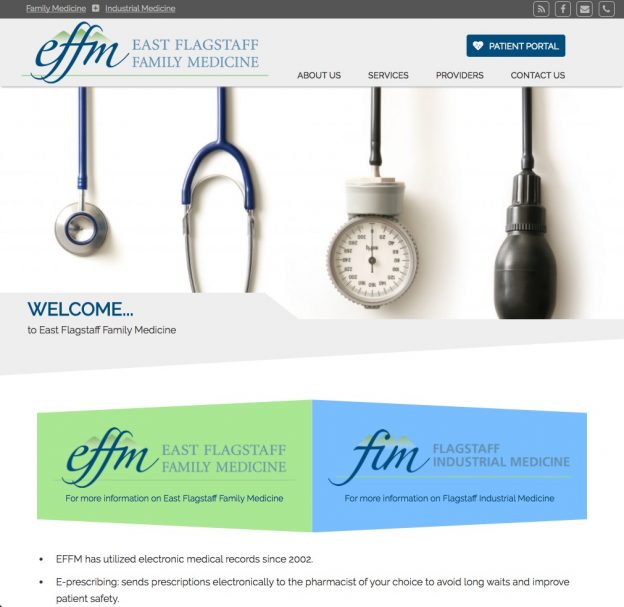 East Flagstaff Family Medicine
---
---
---
💻 Web application developer
Starting with the design files provided by your graphic designer, I will build your theme, using a custom starter that I created for my design projects, or if you prefer, we could use a theme of your choosing. I write all of the CSS/SCSS stylesheets by hand, and tailor your theme's front end and backend code to your specific needs.
With the advent of the new wordpress editor (aka. Gutenberg), a major change was ushered into the wordpress world. Blocks are the new shiny thing, that everyone wants. If you need a custom block or want recommendations on what blocks would be best for your website, please let me know I would be happy to help. I have built quite a few blocks that I personally use for my design projects, and I would be happy to help you with any of your custom block needs. If you want some idea of what can be built with custom gutenberg blocks, check out my site at: FlagstaffConnection.com. This entire site was built with the new editor. The only parts that are not gutenberg are the header, main menu, and copyright box at the bottom.
If you would like to get an idea of what the gutenberg editor looks like on the back end, please check out the gutenberg playground that wordpress created, to show off their new editor.
I am also well acquainted with most of the standard industry leading plugins like woocommerce, ACF, etc., and can customize bespoke functionality for your site and your particular needs. I can also develop custom plugins if that is what your project requires.
Finally, I believe deeply in "designing" the backend of your site as well. I spend a lot of time organizing and simplifying the user interface of the wordpress admin. I find that if a client cant use the backend to update their site, then all of the time and effort spent on developing a beautiful front end is wasted because it will get stale, and never updated. This is bad for the client, and the developer alike, and it can lead to hard feelings. So, I make sure that my customers are very comfortable with both the front end, and the back end of the project when delivered.
If you need someone to develop your blocks, site, theme, plugin, or build out a custom solution of any kind, I can help.
---
🔒 System administrator and a website security specialist
I run my own linux server with over 80 sites on it, as well as manage three other servers that belong to clients of mine. I administer the maintenance, security, and backups of all the servers under my management, as well as handling any other aspects of the server's operation that may come up over time.
I am obsessed with security. I believe that security of a wordpress site is equally as important as design and performance. I have written a half dozen BASH scripts that run on these servers every night and report on scans that the script runs. I scan the server for malware using, Clamscan/LMD/RKhunter, and I have created scripts that reads every public facing file on the server, checking for alterations, and permission changes, and automatically repair them on the fly. I have written other BASH scripts that automatically backup and transfer the backups of the site files and databases to a dropbox for off-site storage. I do it this way because using plugins like backupbuddy, while great for the front-end user, end up creating hundreds if not thousands of cron jobs for each and every site on the server, and ultimately end up slowing everything down. Doing the backups and off-site deployment via cli scripts is exponentially faster than plugin solutions.
If you need someone to manage your server, or build-out and spin-up custom configurations, I can help.
---
🚀 Website optimization specialist
I believe deeply in site performance. Most of my clients aren't willing to pay me to take their sites from 85 to 95 or higher on google pagespeed, but I know how to. If you check my company's website (flagstaffconnection.com) it consistently gets a score of 95 or higher, and usually loads completely in under 1 second. But don't take my word for it, click below to see for yourself:
Google pagespeed insights
Pingdom Tools
GTMetrix
But I also do everything I can to keep performance and speed in mind when building my custom plugins, blocks, or themes. It is clear today that speed is crucially important factor in the success and profitability of any site. If you need someone to help you greatly improve your performance, and I can help.
---
I would love to be your next developer…. Let me know if there is anything I can do to help!
⭐️ Click here to hire me as your preferred expert ⭐️
---
Customer reviews

Jesse has been great to work with, and helpful through a transition of team members on our side. His work is professional and meets the scope of work we provided.

Knew what I needed and got the job done perfectly.. Thank you!


very good comunication and service. thanks Jesse





He was direct and provided good work in a timely manner.


I needed Jesse for a couple of tasks in updating our website and he was able to look at this quickly and implement the necessary steps! He has been nothing but helpful and knowledgable and will keep coming back should we ever have any other issues! Thanks again!

Jesse has greatly optimised the speed of my site, diagnosed and fixed problematic code all while keeping me up to date and breaking it down in understandable language. What more could you want?

Very attentive and knowledgable! Our website was hacked and from start to finish he has worked tirelessly with our adwords accountant and Google to fix and clean up our website and adwords campaigns. Highly recommend!! Thank you again!

Real professional, guided me ( novice ) through the steps and delivered project goals on time.