Tags
---
Reliable WordPress Magician Available For Theme & Plugin Development
Looking for a dedicated, reliable, fast, professional WordPress expert?
Tired of unseasoned developers not seeing the bigger picture?
Sick of having to micro-manage projects?
"Stand back! I've done this before!"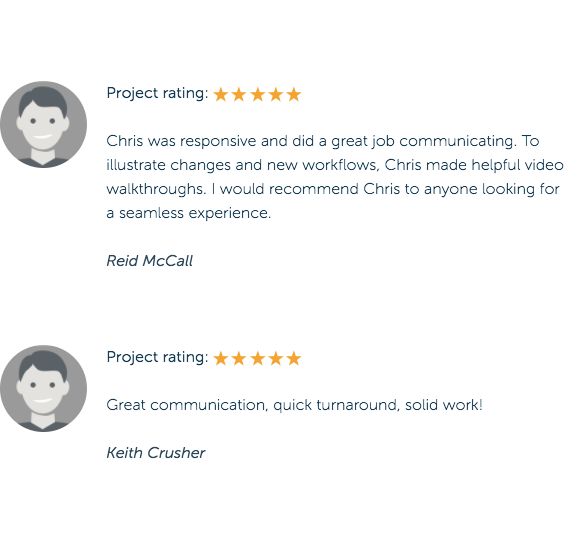 My commitment to you: Your website will be coded to the highest modern standards ensuring it loads fast, works on all modern browsers and devices (tablets and phones), and meets all technical criteria for ranking at the top of search engines.
With nearly a decade of WordPress experience under my belt, rest assured you're in good hands. Whether you're looking for someone to quickly turn around a small design change, or take a Photoshop file and hand-code a theme from scratch, I got you covered.
Your website reaps the rewards of 20 years of website experience ranging from big blockbuster clients like Ritz Carlton, Trump™ International, and the American Society for Aesthetic Plastic Surgery all the way down to small family businesses hand-carving wooden sinks, or supporting local music talent.
You definitely want to keep me in mind if you're in the Crypto/Blockchain, Cannabis, or Street Art industries.
---
You're looking for someone with a strong eye for design, and a strong understanding of the limitations of the web.
---
Don't Take My Word For It, Here's What Some Of Happy Clients Say About Me
"I've used Chris on a number of personal products and professional endeavours and he has been nothing less than exceptional. Without Chris I truly doubt my business would be where it is today and I will continue to work with him in the future."
Bryce Schleibinger
El Chapo, Resell Cartel
"Chris is a secret weapon when it comes to online marketing! Within minutes of asking him for input on my outbound marketing strategy, he handed me a list of qualified leads, saving me several hours of prospecting time. Thanks a bunch!"
Claus Geissendoerfer
Founder, CMS Assist
---
---
Roadmap To Solving All Your Problems *
* Relationship Advice Not Included
1). We make a plan together – You have a problem, and I wanna solve it. Since one size does NOT fit all, we'll chat back and forth to clearly define your expectations.
To keep your costs down and turn-around your project rapidly, it's important we "measure twice, cut once" here; let's we take an extra moment to ensure everything is crystal clear for both parties, and that we've considered everything beforehand.
Note: At this step, it may be best to hop on the phone (or Skype) and strategize things further. This is because the project is larger than we both realize and the requirements list needs to be fine-tuned before I can estimate properly. This strategy session will take an hour and is on-the-clock ($60).
2). Your problem gets solved – This is where the rubber hits the road. I'll make a backup of your site and install a version of it on my computer, then get to work resolving the issues you're having.
Installing a personal private version of your website allows me to work ten times as fast, to properly investigate your issue, and to make changes risk free, without affecting your production environment (your main website). In 20+ years of web development, I've never shared client information with someone outside the project. Your passwords and credentials are safe with me, and will be removed from my computer immediately after our project finishes.
3). You approve the fixes – You'll be presented a website URL that looks and functions just like your business. You click, test, and check your website's functioning as you expected, and either approve it to go live on your website, or send back a single list of revisions.
4). Your website is fixed – Soon after your approval, I'll migrate the changes/fixes over to your server and stand by for support, just in case.
I've Heard Enough, I Want To Hire You!
---
---
Customer reviews

Chris is amazing as always and is our go to guy on Codeable!


Very knowledgable and helpful no matter what size of project.

Easy to work with and very knowledgeable !👍🏻


Very responsive and detailed! Great communication skills and knowledge of WordPress and PHP Upgrades. Thank you so much Chris!


Great work yet again, while still being able to meet tight deadlines.

Chris has been great!

Quality code and great communications - I look forward to working with Chris again!


It was a positive experience working with Chris. He's very knowledgeable and a great communicator. The project took a bit longer than expected, but I'm very pleased with the results. I highly recommend Chris for any developer projects and will not hesitate to work with him again.

Easy to talk to. Came prepared with questions. Thoughtful.