Tags
---
You are looking for a reliable WordPress Consultant that is able to solve your current problems fast and cost effective without any of the usual hassle when working with designers and developers.
Well thats great, because you have just found the right person! Additionally to being a highly trained professional, I can be your go-to consultant for anything web related – helping you not just to solve your current challenges but as well to get long term more visitors, email subscribers and revenue for your business. Beside being a passionate Developer I am as well an entrepreneur and always strive to understand the business goals behind your project.
➤ Over 20.000 hours of Experience
I have over 20.000 hours of Wordpress Development Experience and had the pleasure to work with all kinds of clients within all kind of industries.
Even better: I have helped internet famous multi million dollar online bussinesses increase their visitors, email subscribers and revenue through world class webdesign designing and developing several pages that each have been responsible in excess of a million dollar in revenue. If you would like to know more about those clients, how I work with them and what the results look like you should visit my personal website.
➤ Building SaaS Apps and MVPs from Scratch
Beside WordPress I have as well excessive experience working with more "modern stacks" used to develop Software as a Service Platforms or Web Apps. This includes node.js, express, React, document based databases like MongoDB and adjacent technologies and APIs like Redux, infinitely scalable Serverless Functions Providers, Enterprise Level Cloud Solutions, integrating Payment Providers from scratch or sending automation emails. As a matter of fact I have build an Email Marketing App from scratch based on those technologies and wrote about the whole process on Indiehackers.
➤ Commercial Theme Founder
Beside that I am the proud Founder of a successfull WordPress theme so that you can be a hundred percent sure of the future-proof quality code I provide and that I am definitely the right choice for your project.
By working together closely with both customers of my theme and consulting clients you can be confident that I am happy and experienced to support you at every step of your journey.
No matter what it is that you need, I am here to help you. You will benefit from my clear view of the bigger picture and proven experience in both WordPress Development, Webesign, Copywriting and Online Marketing.
➤ Running a successfull Blog myself
Another proof of my high quality work is as well the thriving Blog Business I've co-founded with my wife and where we are serving effortless with a completely custom build theme almost half a million readers per month:
➤ Going above and beyond for you
I am Antonio, and you might have noticed that I am still relatively new to the codeable platform.
But you got nothing to worry about, as I have passed the same extensive codeable vetting process as everybody else which means that I am proud to belong to the very top 2% of all developers worldwide.
The good thing for you though is, that being new on codeable means that I will go above and beyond to exceed your expectations and give 100% to make your project a true success. But don't take my word for it, just scroll further down to take a look at the first few raving 5 stars reviews I already got from satisfied clients.
➤ World Class Webdesign:
Here are a just a few selected Work Examples of websites which blow away your visitors and make a noticeable difference to your brand and bottom line: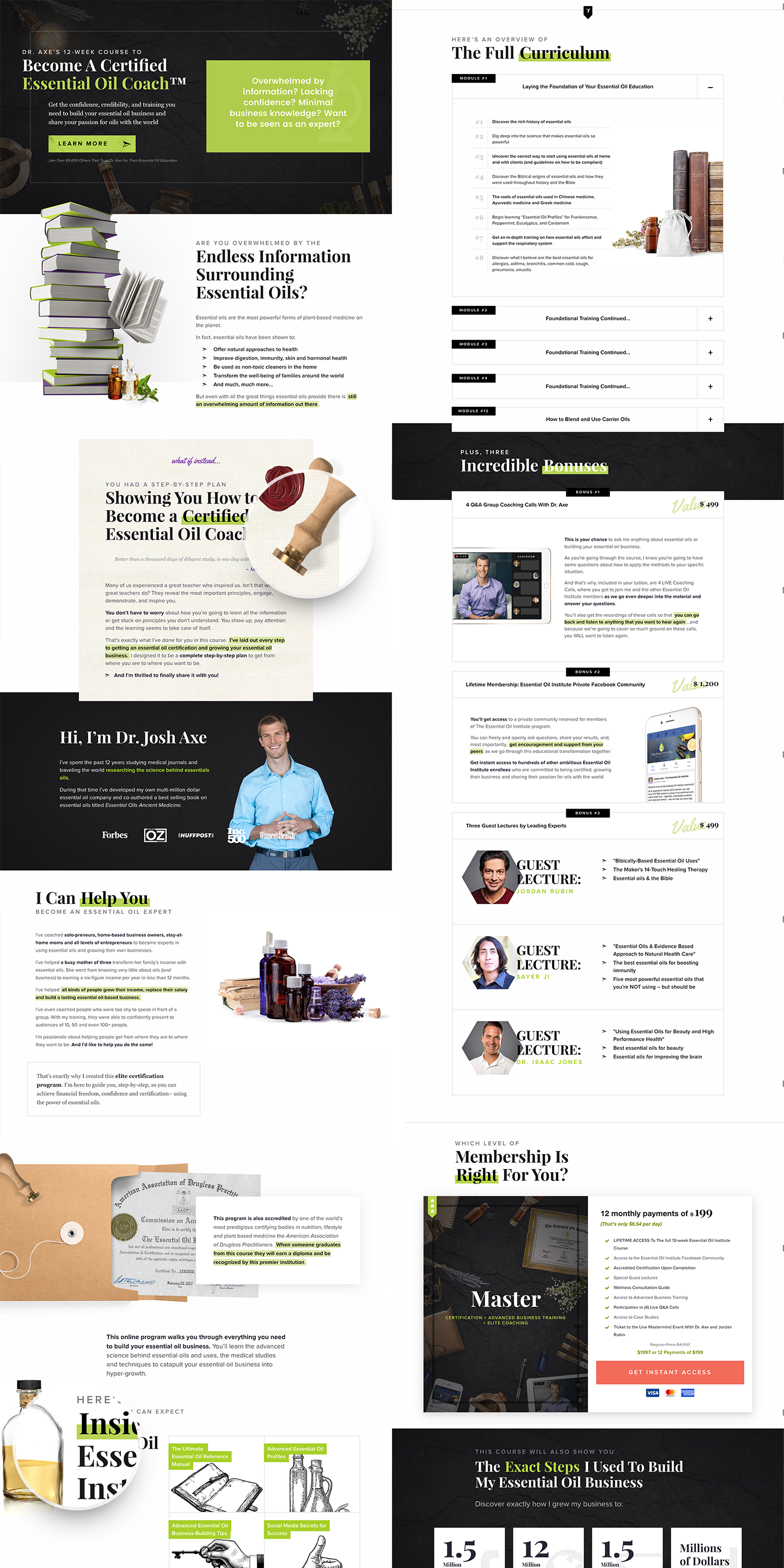 ➤ To summarize:
I love creating world class websites that help solve my customers most pressing business problems.
So without further ado, please get in touch as I am looking forward to learn more about what you need to get done right now.
---
Customer reviews
Antonio Brinkmann
2019-06-20T12:32:03Z
5
As a small business owner, I've hired hundreds of vendors over the years. Maybe more than a thousand. Mr. Brinkmann is a clear leader in that pack. Projecting professionalism, efficiency, timeliness, responsibility, and a level of coding and web design that I could have only imagined. Simply put, if he bids on your project, you'd be a fool not to IMMEDIATELY accept!
Antonio Brinkmann
2019-05-14T17:03:43Z
5
I worked with many developers in the past. I even lead a team myself of 15 developers in a past career, and Antonio is one of the best developers I know. He communicates well, knows when to ask questions and when to deliver. He checks his work to make sure there are no little mistakes, typos etc. I will work a lot more with Antonio.
Antonio Brinkmann
2019-04-29T06:26:19Z
5
Antonio is a gifted developer and an excellent communicator--and you can't always find those qualities in the same person! He revamped my site from a glorified corkboard of ideas to a professional design that really changes the game for me. He is not just a great developer--he also knows a lot about sales and marketing and can offer terrific guidance on how you can optimize your site for the best results. Without question, I will come back to him every single time my site needs an update.
Antonio Brinkmann
2019-11-28T15:09:15Z
5
Antonio Brinkmann
2019-10-03T11:14:17Z
5
He's a friggin' rock star.
Antonio Brinkmann
2019-07-04T19:48:59Z
5
Antonio Brinkmann
2019-06-27T17:39:55Z
5
Simply amazing. As good as I could have possibly hoped or dreamt!
Antonio Brinkmann
2019-06-23T16:19:06Z
5
Antonio is super helpful even beyond the tasks that you hire him for.
Antonio Brinkmann
2019-06-07T07:21:39Z
5
Antonio Brinkmann
2019-05-14T13:42:32Z
5
Antonio Brinkmann
2019-05-10T17:12:26Z
5
Antonio was extremely thorough, patient, professional, and efficient. Thanks!
Antonio Brinkmann
2019-05-10T06:26:41Z
5
Antonio Brinkmann
2019-05-07T15:37:42Z
5
Yes, that is what you want if you need support. A person who starts with asking the right questions gives the advice you need in a clear and very fast manner. That is why I like the consultancy Antonio gave me. And his personal advice was good. Very good. I am happy with this support and more.
Antonio Brinkmann
2019-04-27T14:05:45Z
5
Fast, knowledgeable and great at troubleshooting. Our website grew organically over the years and Antonio was great at troubleshooting and once he found the issue he explained it well so we were able to come up with a plan to fix the different things. We'll work more together.
Antonio Brinkmann
2019-04-26T19:41:28Z
5
This was my first time using codeable. I was a bit apprehensive since I wasn't familiar with the process and didn't quite know what to expect. But Antonio was outstanding. He asked the right questions and helped me to think about what I wanted. He was very fair, VERY fast, and exceeded my expectations. I can't say enough good things about him. His work and work ethic are outstanding. And I am looking forward to hire him again. He's worth every penny!